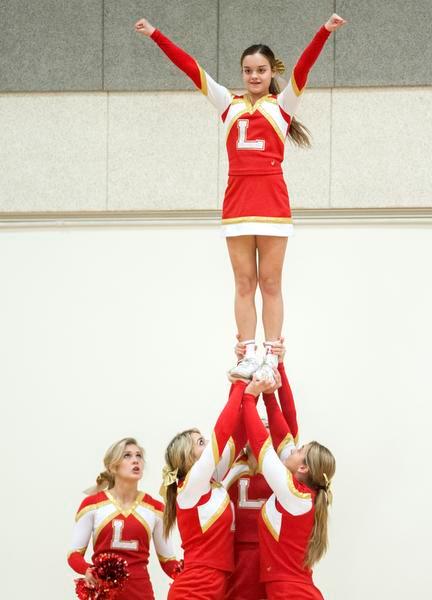 29 Sep

Cheerleading Injuries: Find Out the Two Most Common Causes

Posted at 10:45h

in

ACL injuries

,

Ankle Injuries

,

Back Injuries

,

bone stress injuries

,

Cheerleading

,

Concussion

,

Elbow Injuries

,

Heel and Foot Injuries

,

Injury Prevention

,

Knee Injuries

,

Pediatric Sports Medicine

,

Shoulder Injuries

,

Sport Related Concussions

,

Uncategorized

0 Comments

Cheerleaders are amazing athletes that need agility, strength, and frequent practice to prevent cheerleading injuries.

Backspots, bases, flyers and tumblers all need proper skills and essential coordination.

Unfortunately, the frequency of cheerleading injuries is rising with the increasing complexity of stunts.

No matter the injured body part, the common link tends to be weakness or limitations in the shoulders and hips.
HOW CAN CHEERLEADERS, PARENTS AND COACHES REDUCE CHEERLEADING INJURIES?
MAKE THOSE SHOULDERS AND HIPS STRONGER!
Pre-season conditioning is especially essential for strong shoulders and hips
An athletic trainer, physical therapist, or sports medicine physician can recommend programs.
Bases and tumblers should develop appropriate shoulder strength for lifting and starting flips and tucks.

The majority of wrist, elbow, and lower back cheerleading injuries I see are often due to poor shoulder strength and stability.

Good hip strength and stability can reduce risk of knee and ankle injuries with jumps and landings

Hip strength and endurance also needed for kicks and leaps

Trouble with push-ups, planks, lunges or squats suggests weak shoulder or hip function
WHAT OTHER TIPS DO YOU HAVE TO REDUCE CHEERLEADING INJURIES?
Practices should take place in proper environments

Use mats to practice landings and dismounts
Find high ceilings for jumping and throwing routines.

Consult experienced and knowledgeable instructors to teach and re-teach the basic skills of each position

Bases must know how to support flyers without hurting themselves
Flyers must know how to land safely
Tumblers need to review rolling and landing techniques over and over again.

Avoid multi-level pyramids or throwing until all participants are comfortable and well-trained in basic skills.

One weak link can ruin the routine for all others.
Weak shoulders can result in drops or chaotic basket catches that may lead to concussions

If an athlete has any pain or discomfort, do not compromise personal safety or the safety of teammates.

Safest to obtain medical evaluation from a sports medicine specialist before returning to practice or competition.
RELATED CONTENT:
ARE SOME CHEERLEADING POSITIONS AT LOWER (OR HIGHER) RISK FOR CONCUSSION?
VIDEO: IMPORTANCE OF ACCURATE DIAGNOSIS AND RETURN TO PLAY PROGRESS AFTER CHEERLEADING INJURIES